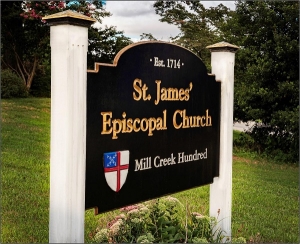 We spread joy and God's love through our fellowship, community events, ministries, and missions.
If you wish to support the work that God has called us to do at St. James', you can make a one-time gift or an ongoing pledge by clicking the Donate button below.
For other ways to make a gift or if you would like to give a memorial Santuary Candle, please call our office at (302) 994-1584 or contact us via email at .
Vestry Stewardship Statement
We, the wardens, vestry, and clergy of St. James', Mill Creek do affirm the tithe as the minimum standard of giving to God and God's work in the world. We believe that if we are not already tithing that it is a worthy goal that we should be working towards. To that end, we commit to being proportional givers, and increasing our giving percentage each year until we reach the tithe of ten percent. We further acknowledge that our tithe includes all our giving towards worthy causes that further the Gospel mandate. As St. James' is the primary community in which we live out our identity as God's people, we will commit at least five percent of our tithe here at St. James'.
Please click on the "Donate" button to make a one-time or an ongoing donation to "St. James' Episcopal Church Mill Creek Hundred" using either a PayPal account, a debit card, or a credit card.